marketing is one of the most important branches of e-marketing specialization, but it faces neglect in the Arab world, although it is calculated as the first means used for Internet marketing, for this matter is still considered one of the most severe and important e-marketing channels, because it is a necessary part in the marketing process for any online business.
Email marketing will continue as an essential marketing element because everything that happens on the Internet is related in one way or another to e-mail, because it is the first and most important official means of communication on the Internet and e-commerce workers know the value of mail marketing, the return on investment in e-mail marketing is usually greater than most other marketing channels, as e-mail is one of the best channels to communicate with interested customers, and share the latest news and products And services with an audience that already knows you, so it's time to take advantage of that most effective and revenue-generating marketing channel. This article will serve as your comprehensive guide to learning how to email marketing, as we will explain everything related to e-marketing.
Start of email marketing
The first email for marketing a product was sent in 1978, very long before the advent of search engines and social media platforms.
It started with Gary Thuerk, marketing manager at Digital Equipment Corporation, sending an email to four hundred people at a time.
The letter was intended to promote a merchandise of the computer equipment manufacturer that generated sales of $13 million.
Since then, email marketing has emerged as the first digital marketing channel and has proven its effectiveness by achieving record sales from one message.
Despite the huge progress witnessed by Internet marketing and the emergence of many modern areas of specialization in it, the necessity of e-mail marketing has not decreased, but has increased significantly.
Where e-mail has become the main element used in creating accounts on sites, following up with customers who buy from online stores, and much more.
What is Email Marketing?
It is one of the branches of Internet marketing specialization and includes sending customized correspondence to a list or several lists with e-mail address statements, a limited number of those statements may contain the e-mail addresses of a number of visitors to your site or online store interested in knowing a lot about your products, offers and services, and some of them may include e-mail addresses for customers who have purchased your products, so the content of the correspondence you send varies according to the category of each list, the content of a few may be Correspondence consists of giving instructions and advice, some of which can be promotional messages for products or services and there are also messages to follow up with potential customers and inform them of modifications.
So it is a form of direct marketing similar to regular mail marketing but more effective.
Email marketing features
1- simple cost
There is no single promotional tool that you can use with the same feasibility, level and results of email marketing! Because it does not cost you much compared to other modern and traditional means of advertising.
2- Targeting accuracy
Email outperforms other digital marketing disciplines when it comes to targeting accuracy, even when communicating with potential customers who have never heard of you before, where will you find an advertising medium that targets your audience by name and directly reaches their private messages? You modify the text based on the customer's needs, desires and behavior, and therefore this accurate targeting and name creates a personal relationship between the customer and your brand that makes your targeting high for the audience as well as its response.
3-Accuracy of analytics
You can see if people read the mail, opened links, or shared the mail with other friends, and you can determine how successful your campaigns are in the easiest way possible, anytime, around the clock, seven days a week.
4-Send Anywhere
You can send an email to anywhere on the planet because email marketing has no limits or scope, but you can serve your customers anytime and anywhere.
5-Flexibility
There is no other type of marketing that provides the freedom to send images, videos, text, links, analyze and edit performance like email marketing.
6-Customers asked you to write to them
The best thing about email marketing is that the recipients of your marketing messages are those who allow you to send your e-mail about your products and services and are interested in them because they have given you explicit permission to send them an email.
7-Instant and shareable
Email doesn't need a complicated sending process, it's instant and you can see its impact within minutes of the campaign starting. Email advertising is therefore great for convincing potential customers to make a purchase decision immediately and tools can also be designed to share the ad with friends and family via email, thus creating more brand awareness.
8-Easy follow-up whether before or after purchase
E-marketing platforms provide you with sending multiple messages to different mailing lists and scheduling these messages to arrive at specific times. You can also send follow-up messages with special offers to convince potential customers based on them according to the level of their interaction with your previous messages so as not to cause inconvenience to them and you can set follow-up messages dedicated to before and after purchase in advance, to work automatically without your intervention. After that, just follow the responses to these automated messages.
9-Customer Behavior Analysis and potential buyers
Using analytics in your email marketing platform you can see how many people opened each message, when it was opened, and in percentage.
10-Increase profits from the same customers at a lower cost
There are email marketing sites that offer free subscription plans, but these free plans allow you to send a limited number of messages to a limited number of email addresses. The great experience with these free plans is that they allow you to try the service with a reasonable number of email addresses.
11-Custom and similar audiences can be created
As you know, we all use our email addresses and phone numbers to create our personal social media accounts, so if you have email addresses for a reasonable number of customers who have previously purchased products or services from you, you have a real treasure trove of data that you can use to create an important type of Custom Audiences in your Facebook ad account.
After you create a Custom Audience using the email addresses of previous buyers, you can create an audience similar in behavior and interests called Lookalike Audience.
Where you can place your ad to attract new customers because they are similar in some characteristics with previous buyers.
What is the advantage of email marketing compared to other marketing methods?
Email marketing has several advantages over other marketing methods for the following reasons:
It is used by half the world's population ,Email from simple messaging between employees or academia has grown to about 3.9 billion users and this number will rise to 4.3 billion by 2023, which means that more than half of the world's population will use email, so investing in it is important, no matter how small it is but the smaller your business is but no matter how big your business is, email marketing increases the chances of it becoming big.
Billions of messages per day
A year ago, the number of emails sent and received per day was monitored and estimated at 293.6 billion emails per day, which is a large number, so please consider distinguishing the emails you send to customers and this number is expected to rise to 347.3 billion, so this growth invites you to think of it as a marketing mechanism for your product.
Great returns
Great returns For every US dollar you spend on email marketing, you'll get $42 for the investment. No wonder the ROI of email marketing can only rise if you follow a good email marketing strategy
An effective way to present your content
With such a strong return on investment, email marketing becomes a way to distribute corporate content to customers in a way that meets their desires, meets their needs and encourages them to take specific actions According to the latest statistics issued by the Content Marketing Institute, up to 87% of marketers use email marketing to publish their content, so that email comes third in distributing and publishing content, after social media and blogs.
Increases the number of your customers
The report showed that 81% of small businesses still rely on email as a means of customer acquisition, and 80% of these businesses use email to retain customers.
How can email marketing be improved?
Here we will learn ways to help you improve your email marketing strategy, or to build one that enhances your communication with your audience and customers:
Timing
Timing When to send an email depends on your audience, the industry your brand operates in, the nature of your campaign's marketing message, and your own experience. This means that experiments, attempts, data collection and analysis must be carried out to reach the appropriate timing strategy, and of course, the more data you have about the subscribers to the mailing list, the more efficient and best options available to you to target them with your marketing messages, it is necessary when knowing the right timing not to flood your audience with unnecessary messages. Always remember that you most likely got your email address as a result of your presentation, so users aren't ready to hear it from you often.
According to statistics from marketing research specialist Shokra, 61% of individuals said they would like to receive one email promotion per month, and only 16% said they would like to receive marketing emails on an almost daily or almost daily basis.
So the time you set up your strategy, think seriously about the timing and volume of messages you send to your audience. Look at data from previous campaigns to determine when to send messages and how much you should send between periods.
Personalized
Personalization can be as simple as adding a username to an email header, or it can be more personalized and targeted, such as targeting the message content to specific individuals or groups of users.
Statistics show that emails with usernames in the address are 26% more likely to be opened by users compared to messages that don't directly reference usernames.
Personalization is therefore an essential way to improve the efficiency of your email marketing campaigns and this makes your messages more personalized, targeted to your audience, and more relevant to their needs and interests. So of course you need enough data on users to properly customize your mailing list. The more data you have, the better you can use this technology.
From customizing the message title to customizing the content to the offers you can make, it all makes your email marketing strategy more effective.
Drip Marketing
It is a series of pre-scheduled emails in chronological order and automatically sent to each user in the mailing list sequentially, hence the technique also known as automated emails.
The hallmark of this technology is its ability to guide users through a series of steps, from the first moment they recognize the brand, to the desired goal, such as buying a product or service.
Let's say your website offers a directory of a product or service in brochure form and asks visitors to provide you with their email addresses so they can download the guide and once the visitor provides their email address, they will receive a message with a link to download the guide.
But it would be illogical if the process stopped there, you created this guide on goals you want to achieve behind it, it is necessary to establish a relationship with your users via email, and send another message after a few days with details about the topics covered in the guide.
After a short period of time, the user receives a message from you stating that he can learn more about the topic through a dialogue for you in which you talk about your educational course or product, and then send another message offering an offer or discount to register for the course or buy the product, considering the user interested in this topic.
To do this, through this series of messages, build a relationship from the first moment the user learns about you or your product and move from one stage to another and what you have delivered at each of these stages . At each of these stages, you provide what enhances this relationship and makes it more valuable to your product or service until the last stage that the customer goes through, which is the purchase stage.
This does not require you to be behind the screen and create a series of emails for each person who adds their address to the list, but it requires some effort at the beginning and the ability to send messages and then schedule messages through any mailing list management platforms, and this process will occur automatically for each user who was added to the list later.
Segmentation
Segmenting and segmenting audiences and users according to various factors such as interests, needs, age, gender, and brand relevance is part of any marketing strategy, not just email marketing.
Understanding that subscribers to your mailing list are not just one category, but they have a range of different needs, desires and interests that may help you think in terms of group and category styles. So you can target groups that are most relevant to your brand and ensure that you will make money from them.
Otherwise, treating and targeting them as a single category in your marketing message will affect the effectiveness of your marketing strategy and backfire, and you feel that your service or product is not suitable for them, making them look for alternatives
Use email campaign templates
Email templates are pre-designed email templates that anyone can use and can easily write new messages or rewrite messages. Also, you can use various tools like Mailchimp, Zoho, etc. which offer many ready-to-use templates.
Campaign Performance Tracking
You can use A/B testing, also known as split testing, to determine how successful your campaign is and send two different versions of your email to see which one attracts the most subscribers.
Create emails that can be read on any device
According to the Continuous Contact Report for emails opened on devices, 60% of emails were opened on mobile devices in July 2020.
Today, most people use cell phones to connect to the internet and read their emails.
"These were the factors that help you improve the use of your email marketing"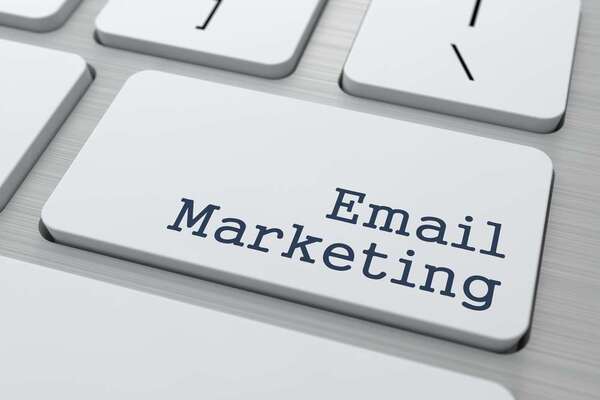 What are the rules of email marketing؟
Email marketing has a special nature that distinguishes it from other digital marketing, and there is a system that must be built before the email marketing process begins.
1-Build the system
This system consists of several elements:
Participate in an email marketing service
This is a service that collects and manages mailing lists that collect and store data (names, email addresses, etc.) of mailing list subscribers and through it messages are automatically sent to subscribers according to preset.
Design forms to retrieve user data
There are many types of such forms, some of which appear as a pop-up window at the top of the content of the site, others appear next to the content of the site and in other cases, user data is obtained through the registration process on the site. For example, the process of opening a Facebook account where you have to enter your name and email where this data is used to send messages to you without otherwise registering is used.
Link the mailing list subscription form to your email marketing service
This is done through a code provided by the service provider and placed on the site that performs the data transfer.
It's a programming process, but it's not difficult and can be done by non-programmers and most email marketing companies often have how-to videos and articles on how to link their services to their site.
WordPress and MailChimp users can use this great plugin
Brand Identification
Email marketing companies can create unique designs for messages sent to subscribers, such as placing a company logo or choosing specific colors to use (by writing the message in html format).
You can also use images, create embedments from your store for some products, and put contact data (website links, email addresses, company names, social media page icons, etc.).
Create electronic messaging systems
Messages are the final marketing product of the email marketing process and are automatically sent according to a predetermined sequence determined by the email marketing company.
The messages listed here are for marketing, but you should fully understand that not every message you send to your mailing list subscribers is a marketing message.
2-Build a mailing list
In the world of email marketing, this process is called Optin, and there is another important term called Double Opt-In.
Double Opt-In requires you to activate your email address by sending an email containing a private link and users must click on this link to activate their subscription to the mailing list.
Of course, all email marketing experts recommend creating a double mailing list (type II), building a mailing list is not easy and to get the best results, you have to do your marketing work and do a lot of experiments and tests.
The key to building a successful mailing list is to give your users a strong reason to subscribe to your mailing list (such as branding and delivering great content).
For example, when I shop on Amazon, I confidently put a checkmark in front of promotional messages in emails because it is a brand I trust. You can buy them by filling out the form to subscribe to our mailing list.
3-Start sending marketing messages
This process is related to system settings, which makes it difficult to send marketing messages to users manually.
Hence the importance of systems where you can assign marketing messages to users every week, month or every 15 days for the best-selling products in your store.
This is not only what can be set through the system since there are many other advanced settings that allow you to categorize mailing list subscribers and send them private messages according to their classification.
For example, you can send a message to all shoppers who haven't completed the sale after three days have passed since they left their cart.
How does email marketing help your project succeed?
Email marketing is one of the powerful tactics in the success of your project and attracting traffic to your products, as it works on:
Email marketing helps you build a long-term relationship with customers
If you're trying to attract more visitors to your online store, you're more likely to turn to social media marketing or search engine optimization (SEO). But if your goal is to build long-term relationships with your visitors or strengthen those relationships and turn them into permanent customers, email marketing is the best way to do it.
Email marketing plays a key role in encouraging customers to make frequent purchases, which helps increase customer retention and reduce the cost of acquiring new customers.
Email can help you provide your customers with personal care and attention If you use the right tools, it can also help you find new visitors and customers for your store, as well as stay in touch with previous customers.
Email is effective in increasing sales
Email marketing has achieved the highest return on investment for 10 consecutive years, and statistics show that you can earn $38 for every dollar you spend on email marketing campaigns. Despite the immense popularity of social networks over the past few years, Email marketing still brings in new visitors and customers 40 times better than other social networks and in doing so it has proven to be a highly effective marketing strategy, so if you follow the right steps to start an email marketing campaign, you will achieve success for your project and the desired returns by a large percentage and you will get amazing results.
5-The success of your project by email marketing depends on planning your campaigns, developing the right strategies, measuring the performance of your campaigns and how people react to them from time to time, and how likely you are to make corrections and improvements and by creating a solid email marketing strategy, you can reach and connect with your target audience in a customized way to increase sales at an affordable price.
"Email marketing has proven to be a magic wand because it's one of the most affordable marketing tools available at the lowest cost and affordability and if you don't use it, you're missing out on a lot of benefits".
How to start email marketing campaigns?
To start your email marketing campaigns, you must follow the following:
1-Choose the Best Email Service Provider
An email service provider is a place that has your inbox, inbox for sent messages, spam and if you want to start an email marketing campaign, choosing the best and most suitable service provider will make the next steps easier.
When email first started in October 1969, email had only two options: check your inbox and send a message, but today there are millions of options to choose from. Here is a list of the best email service providers today:
| | |
| --- | --- |
| 1) Google | 5) HubSpot |
| 2) Zoho Mail | 6) Yahoo |
| 3) Proton Mail | 7) Outlook |
| 4) MailChimp | 8) iCloud eMail |
Make sure your service provider provides security – 1
People are very concerned about information security these days. Of course everyone wants the most secure and private service to prevent data theft and misuse, according to Hotspot, more than 150 billion emails are sent daily, each at a rate of 15 attachments per day, files are attached and 53% of users said they lost files containing sensitive information while sending emails, this means that your sensitive information may end up in someone else's hands, so security should be in Consider when choosing the best email service provider.
2-Create a mailing list
If you ask an online store founder or manager for effective marketing advice, most people will tell you to start creating your mailing list from day one of your store, learn from this tip, and start collecting mail subscribers for your store as soon as possible.
We collect visitor email addresses to create mailing lists, and these mailing lists are usually stored with your email service provider. One of the key things you should know before compiling your mailing list is that you need legal permission to send your mailings and promotional campaigns to your potential customers, so you don't make email marketing mistakes.
To get this permission visitors must voluntarily "sign up" for your newsletter service, and there are many ways to encourage them to do so. Visitors choose to subscribe to our newsletter service for several reasons, including:
Learn more about our store and the products and services it offers.-
-Get the best deals regularly.
-Tell them about the latest products that your store always offers.
Get discount codes and special offers.-
3-Do not violate the law during marketing campaigns:
Email marketing is an example of so-called permission marketing, a term coined by American marketer and author Seth Goodin. This means that visitors must choose to sign up for your mailing list voluntarily, and the relationship between your brand and your customers must be built on this permission.
This depends not only on the marketing aspect and the image you reflect on your brand, but more importantly, it also depends on the legal aspect. Many countries have laws and regulations governing the email marketing process, and violations of these laws may expose you to legal liability and possibly hefty fines, and some may exceed them.
4-Select an audience
It's important to do your email marketing and make sure your campaigns are performing and winning. Make sure you accurately customize your audience by filtering and sorting your mailing list according to factors they share, such as gender, age, location, and purchasing power. Because we understand each customer's needs and can offer them exactly what they want.
5-Take care of the content
There is no bad content, but there is content that is suitable for your audience and brand, others do not fit in so regarding content in email marketing is to put yourself in the shoes of the person reading that email and to determine the value you pay to consume this content The most important thing in content creation is organizing and building an emotional relationship with your readers.
6-Design value
After fierce competition for social media, design is a paradox that makes your audience pay attention and engage with the content you offer. Your design should be in line with your audience, your brand identity, the clarity and readability of your text, and a clear call-to-action, using high-quality images.
7-Gather contacts with email marketing lists
Most businesses have many email addresses that can be used for email marketing. First, add customers or people you already have a relationship with to the marketing list you want to email them.
Don't worry if you don't have an email to send your marketing message. You can create a newsletter sign-up form on your website and encourage your social media followers and loyal customers to sign up.
Whatever your situation, don't buy a ready-made email list that includes people who know nothing about your business.
8-Add contacts to your email marketing account
After creating your email marketing account and the initial list of recipients, add your contacts to the account. You can upload your contact list from an Excel spreadsheet on your device, or import contacts directly from Gmail or Outlook accounts. Then organize your contacts into separate lists based on what you know about them.
9-Set your own welcome email
Welcome email is the first message a new subscriber receives with the messages you send, these messages are important because they are your first impression for people interested in your business as you can expect above-average open rates for welcome emails, so be sure to show interest in the emails you send.
10-Create reusable email templates
You don't have to be designed to send professional emails that are beautifully designed and look great on any device, Constant Contact has hundreds of email templates to choose from and when choosing a template, look for something eye-catching and mobile-friendly.
Customize the form with your brand by placing your business logo directly above the email and an image link to your website or online store homepage, create an email footer with your business name, contact information, and links to your social media accounts and once you've set up all these basic design elements, make a copy of your template and save it. With this reusable model, you don't have to start from scratch and add branding every time.
11-Please take the time to enter your email address
The subject line of the email is one of the most important lines of text in the entire message because email subscribers see the subject line before opening the message as you have to leave a good impression and write good words Otherwise, the recipient of your message may skip your message without even thinking about it. Title lines should be short and fast, about 40 characters long.
12-Preview and test before sending
Before sending, read the message, make sure there are no spelling errors, pay attention to the address, we recommend sending a test email to yourself or your employees before sending it to your email address list.
13-Send emails in a timely manner
When you're ready to send your email, it's important to consider timing. Each person's audience varies, and the best time to send depends on your mailing list members as you can also create and stick to a fixed sending schedule. For example, if you send your newsletter on the first day of each month, viewers will expect to see your newsletter in their email every time.
14-Identify calls to action
A call-to-action (CTA) is a phrase that tells readers what they should do to take advantage of the feature, offer, or service you offer and whether they want your business to benefit from email marketing, these sentences should be short, non-repetitive, and engaging.
15-See results
Email marketing is more than just sending messages you should track things like open rates, click-through rates, and unsubscribe rates and work to improve your results over time. To get good results, you need to learn more about your customers and subscribers by measuring the performance of each email sent and making the necessary improvements.
Build a mailing list
Your guide to building your first mailing list from scratch:
1-Always carry your registration card with you
Always collect email addresses directly, whether you're at a trade show, a social event, or at your own storefront, it doesn't take much effort and you can easily ask people to fill out forms with their personal information.
2-Use of business cards
Give everyone you meet face-to-face a business card, try placing a glass jar on your shop counter or front desk and ask your visitors to drop their business cards there. To motivate people to sign up to receive your emails, offer free products or services, gift cards, etc., and add this offer to the back of the card to promote it further.
3-Host an event
Organize events like lunch, topical talks, book clubs, or other ideas that get people involved and engaged. Send invitations, announcements, and local media to make your idea a success. Then ask people to sign up for your event using their email.
4-Invite people to join your group
The strategy of informing people that they belong to a "privileged group" is one of the well-known strategies used by leading global companies. To do this, a special offer must be emailed to classes as a special discount offer during the company's anniversary or birthdays. This step basically shows that the company cares about people who belong to that particular group like one family.
5- Special Gift:
Ask people to share your emails and randomly choose from them to win cash prizes.
6-Subscription request by e-mail by traditional mail:
In some cases, you only know the person's mailing address and do not have an email address. To motivate them to join your mailing list, send them a special offer via traditional email that they will only receive after they go to your website and join them.
7-Try telemarketing
There is no doubt that you are in constant contact with your customers and target group over the phone that's why we always recommend asking if you want to join our mailing list.
8-Optimize your website for employment benefits:
When a customer or potential customer visits your website, they are more or less interested in your website and the services and products you offer. Don't miss the opportunity to be added to our mailing list. Include an email sign-up form not only on the homepage of your site, but also on the pages of popular products and services.
9-Create a blog:
Blogging is a great way to build personal relationships with your customers and prospects and collect their email addresses. You can always motivate users to subscribe to your email by adding a subscribe button to your blog and explaining the added value you get from it. On the other hand, if you want to write a specific comment on your blog, it is wise to ask them to provide their email and indicate that they will be added directly to your email list to receive all the updates. If you want to disable this feature, you have to hit the disable button.
10-Be active on social media
Rest assured that social media provides a valuable opportunity to stay connected with your followers and reach new audiences. To be successful in this regard, stay up to date with common topics that attract the attention of your customers and attract your potential customers. When you use social media to encourage people to visit one of the channels you can subscribe to using email, you have successfully created a rich and private list of email accounts.
11-Don't give up subscribers easily
Bounces are one of the issues facing the email marketing process. Emails don't reach their recipients because they are written incorrectly or because the recipient no longer uses them. However, if you receive such notice for any other reason, please contact the person who changed your email to enquire, otherwise ask them to provide you with a new private email, or urge them to do so. Please offer special rewards or specific discounts.
12-accept new partners
Always try to create a new company with others by sharing your mailing list with others.
13-retention of visitors to the site
If a visitor browses your website without registration, invite them to register one last time before leaving your site. Right after he is about to leave your site, show him a private message asking you to subscribe to his email and take advantage of special offers.
14-Create your own online community
A platform like BuddyPress for WordPress makes it easy to create communities like this to boost your brand's engagement with your customers. Receive updates on all forum pages, including the subscription form.
15-Add "email subscribers only" to reinforce the idea of subscribing
Work on this strategy by rewarding your followers with special offers that are only available to subscribers via email. Redirect the subscription link to your friends and family and encourage them as well.
16-Don't forget to add your email to every email
Make sure that every email you send has a subscription form. This way, anyone who receives your email from someone else can easily and directly subscribe to your list by simply clicking on a link.
17-Actively participate in blogs and forums
Be sure to visit blogs and forums that your customers visit most frequently and actively participate by leaving valuable comments on the topics raised. Don't forget to include a link to your website. The visitor then finds an email subscription form.
18-Involve employees in the mailing list editing process
Reward employees who collect valid, testable email addresses. Remember to get the person's consent before you give them their email address to add to your list.
19-list section according to age of mailing address
By dividing your mailing list according to how long the person stays in the database, you can prioritize sending emails to mailing list subscribers while the data is still up-to-date and start looking through your latest lists and specify an age to subscribe to your contacts. Do it by the subscriber's subscription date, the visitor's last interaction with a sent message, the contact's source date, or any other time-related indicator.
-Encourage customers to have the idea of daily offers20
There are websites dedicated to offering deals offered by companies, and it is very good to make use of these sites to view deals. Offer discounts through this type of site and ask people who want to do business with you to provide their email addresses.
21-Use traditional advertising techniques
To date, the method of advertising by recommending a particular product or service from previous consumers plays an important role due to people's trust in the opinions of those who have previously tried it. Ask your customers to introduce their lists to new subscribers. In return, he offered them discounts as rewards for valid, verified, and approved email addresses they brought.
Prompt to resend email-22
When sending email, please include a link to resend to another friend if that person wants to share your content with someone else. Make sure the link leads directly to a page with a registration form for new registrants to receive emails.
23-Advertise in front of your store or office
Pin bulletin boards in front of your store or office to encourage subscriptions using their email, offer rewards to those who sign up and you can also invite customers to register with your store or provide a web address with a registration form.
24-Use receipts to get as many email addresses as possible
Adds a line to the credit card receipt where customers can enter their email address when signing . Or just ask them to write the address on the back of the receipt. At the end of the day, enter the addresses in your database and send them a welcome message.
Be sure to attend the exhibition
An event or trade fair should be held in your area during the year to showcase your business. Be sure to attend such events and collect your email address directly. Offer new subscribers (or previous customers) a discount on their first purchase in exchange for sharing an email with you.
Encouraging competition
Sponsor a video contest to create a video with a specific duration on why your customers love your business, product, or service, ask them to send you the videos, and post it on your Facebook page. Also, allow visitors to vote on award-winning videos and merchandise. Please email your Facebook page and follow the Facebook rules for competitions.
Use apps on your phone
When we attend trade shows, business meetings, or forums, we use our smartphones to collect email addresses. Also, make sure to include your email in your mobile app. If your website provides an app that can be downloaded for free, ask users to provide their email addresses to complete the download.
Add subscription incentives to mailboxes
If you ship or send products to customers, this is a great opportunity to grow your mailing list for free. Include a registration application inside the shipping box on the label. Be sure to add the phrase to take advantage of the special "email subscribers only" special offer and provide a link to your site to complete registration and take advantage of the first promotion.
29-Make your bill stand out
When sending your invoice, please include the option to sign up in your email mailing list to stay to take advantage of what's new, the most motivating factor for people to make such subscriptions is to offer a special discount or free shipping on their next order instead of providing their email address.
Include subscriptions in electronic signatures-30
Include a link to your signup page in all email, personal and business signatures.
31-Build a strong network
Try joining your local chamber of commerce or other business networking groups. Then send an email about the service to your member list (if applicable) and include the subscription link in the email.
32-Take advantage of the free download feature
It's time to take advantage of all the eBooks and buying guides that your customers can download for free from your website. If a website visitor requests a free download, ask them to complete a subscription form to download and take advantage of. This way, you can be sure to expand your subscriber circle.
33-Talk about yourself
A rhetorical post in which you talk about your company is a great way to show that you are actively participating in society . In this talk, show that more information can be found on your website. It is also possible to take advantage of a free consultation in exchange for subscribing to your e-list to receive new emails.
34-Distinguished by giving
Try offering a discount or special coupon to a new subscriber every month.
Use of the Terms "Exclusive Subscribers" 35
Everyone wants to feel like part of something special, so show email subscribers something that no one else gets. This could be special discounts or access to exclusive videos, eBooks, or other useful content.
36-Give people the option to subscribe
People like more options and want to feel able to choose what works for them, so consider creating different subscription options where they can subscribe for content that is relevant to them.
For example, if you sell a particular tool and also offer multiple consultations, consider the subscription model where users can sign up for information about the tools you sell, tips, or both. You can add more options, such as the ability to set how often they receive emails from you weekly, monthly, or only when there is a special event. People are more likely to subscribe to your mailing list if they have some control over the content they receive.
37)Remember the power of printing
Add a QR code (a barcode that can be scanned using a smartphone app) to your advertising publications, direct postcards, or other printed marketing materials, and use that code to sign up for your mailing list once the code is scanned.
38)Use the certificate in your rights
Make your signup form more compelling by boosting the quality of your content and including testimonials from existing email subscribers who speak positively.
39-Educating people is unique and important to them
If you are an expert in something people want to know. Promote special online email courses that are only available to subscribers.
40-Encourage participation
Website visitors may ignore the subscription request shown at the top of each page, but it's hard to ignore a small message that pops up on their screen after a while. Displaying these messages on the screen after a visitor scrolls down the web page can encourage them to subscribe to your email list. They are more effective in encouraging people who show interest in your content (staying on the page long enough to scroll) to subscribe to your mailing list.
"Creating your first email list often takes time, but it's a crucial time for your future digital marketing success.
What tactics do you use to collect more emails from potential customers?"
Types of email marketing messages you will send to your mailing list
From the start, it's important to plan the different emails you send to your mailing list subscribers.
There are three main categories of ecommerce email:
1-Abandoned shopping cart
-Promotions and promotions2
3-Blogs and useful content
Here is the explanation in detail:
1-Abandoned shopping cart:
Reports indicate that about 70% of shopping baskets in online stores were abandoned by buyers, and they did not complete the purchase and this is either for a competitive price in other stores, distrust of the store, or uncertainty about whether you really need these products.
This type of follow-up messages are sent to users who have abandoned their cart after reaching the last step and these messages are intended to remind you of abandoned shopping carts and guide you through the buying process again, so make sure these carts have images of abandoned products and links that allow customers to easily navigate to their shopping cart with a single click.
2-Promotions and Messages:
These types of emails may be sent to all subscribers to a mailing list or to certain segments within a mailing list, these messages may contain information about new products such as discount codes and offers that apply when you purchase directly from these messages, seasonal offers, or product updates and news.
If you have something or important news to tell your customers, you should consider sending them promotional messages so think carefully about the purpose of these messages, choose the appropriate parts to receive, and calculate your store's profit margins carefully before sending discounts and offers so that you can be sure that you can implement these discounts without loss.
To get the best out of your promotional messages, customize them as much as possible according to the quality of the products offered by the segment of customers to whom you send these messages and also commensurate with the goals you are trying to achieve through your marketing campaign.
3-Blog and useful content:
If you use a content marketing strategy and are trying to publish informational content on your blog in order to educate and enrich your visitors and customers with useful content, and they appear in the first results of different search engine search result pages this is something you should consider when choosing the content of the emails you send to your mailing list subscribers.
Blog content for your online store helps gain customer trust Whether you're sending a blog post, newsletter, or downloadable content like a brochure, that content reminds your customers that you're not only here to sell your product, you're helping them. In general, you send them informational content regardless of whether they have decided to buy from your store or not.
To gain the trust of new subscribers to your mailing list, you can send a personalized welcome message to each individual member. Welcome messages usually briefly present your store and inform those who decide to sign up. Used to serve what you offer in your mailing list.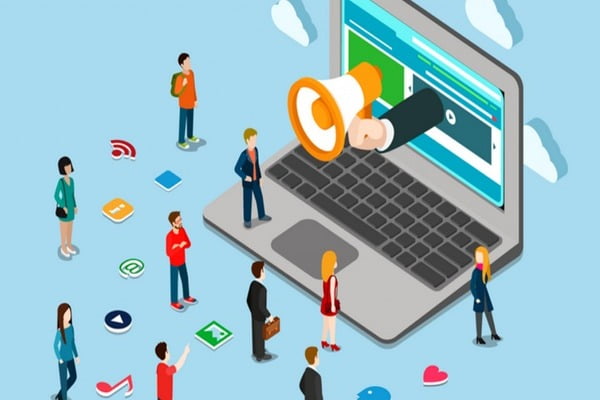 Factors that increase the effectiveness of email marketing
Today's customers are surrounded by informational and promotional messages from all directions. What email marketers are looking for is to grab the attention of subscribers to their list and get them to read what the message says.
You can increase the open rate of your message in several ways:
Customization and Diagnosis
If your store offers a different set of products, you'll need to customize your mailing list. Personalization means creating multiple mailing lists based on the interests of each customer category. For example, if you sell clothes, you may want to create lists for men, women, and children, and if you sell books, offer your subscribers a list of topics that interest you and on the mailing list of their interests (novels, self-development, sales, etc.).
And send a different set of emails to each list to engage your customers and make smooth, smart purchasing decisions, and customization can save you a lot of effort and money in email marketing. Also, do not forget to write his first name at the beginning of the letter.
Personalized messages are 26% more likely to be opened and read compared to general duplicate messages, and marketers have found that personal messages generate 760% higher revenue than before. For example, start your message with "Dear Ahmed" instead of "Dear Reader" to grab the reader's attention.
Coordination
Make the design of your message simple and don't overdo it. Text is better than images (80% text, 20% images). See below for examples of good message design. Pay attention to how your message is formatted so that it is simple and visual.
The coordination includes the following:
Please select the appropriate address
The user must open the message and choose the appropriate address from the dozens of promotional messages he receives daily. Your message later.
Shortcuts and focus
I'm not sure if your target audience has time to read your message. To do this, you need to keep your message concise and focus on what you specifically want to say.
Choose a link location
There is also no guarantee that the user will continue to read the message, so you should place the link in the middle of the message so that the customer cannot see it. You can also use the Call To Action button to increase the click-through rate or CTR of your campaign emails.
3- Feelings arise from an emotional experience
Research by Martin Lindstrom and published in his book "Buying Studies" showed that people do not buy consciously, but with emotions and feelings . The year is full of many occasions that you can connect the customer with and create some kind of emotional bond in order to arouse nostalgia and buy products.
For example, if you sell products for children, you can show your interest and feelings so that parents feel satisfied with the product. Also if you sell mobile phones, you can convey the happiness that cell phone users feel when they get them. And if you sell books, talk about what your customers think of your book and what value it brings them. And if you sell household items, do not forget to talk about providing the comfort and effort that you will get from using such a device, because the language of feelings always works.
Dominic Gittens, in his excellent book "How To Write Great Copy," says that one of the most effective sales letters is to arouse his envy in owning what others have. For this, try sending an email that talks about past customer experiences and explains your feelings and emotions.
Top metrics to evaluate email marketing campaign performance
Email marketing requires a lot of effort and time to become an expert and that time includes training, developing strategies and plans, and running marketing campaigns. Training alone is not enough and does not guarantee success every time, but we need to understand and know the metrics by which we can measure this success.
Especially when these different campaigns have different goals, whether it is to attract new visitors or convert visitors into leads and increase sales, however, there are some basic measures and factors to evaluate the success of these marketing campaigns and determine what is lacking, which are as follows:
1-Email open rate
The open rate is the simplest measure of key performance indicators (kpis) to evaluate and understand how your mailing list subscribers receive your messages. It helps you see how many people have opened these messages, and the open rate of messages provides you with some simple tips for you to use.
For example, statistics show that messages with a subscriber's name are 26% more likely to be opened than messages without a name . Most email marketing campaigns get an open rate of less than 24%, so if you succeed with a higher open rate than this, you're on the right track.
Conversion rate
Conversion rate, or conversion rate, is the percentage of email recipients who take the action you call for. For example, if a message has an offer or discount for a new product and you put a link to the product in that message, the conversion rate will be the number of users who clicked on that link compared to all users who received the email percentage.
The conversion rate can be calculated using a simple equation: (the number of people who took action ÷ the number of people who received the message) × 100.
Click-Through Rate
(CTR) is the percentage of email recipients who click one or more links in a message. This can be easily calculated as the conversion rate has been calculated. That is: (the number of people who clicked on the link / the number of message recipients) × 100.
Click-through rate (CTR) helps you determine the effectiveness of your marketing campaigns, and there are many ways to improve CTR when developing an email marketing strategy. For example, you can include links in the appropriate places within the content of your message, make it appealing to your readers, and place them inside the buttons that represent the calls to action. Most marketing campaigns have click-through ratios in the 4% range, so click-through rates are typically much lower than message opening rates.
4-Bounce rate
Bounce rate measures the number of mailing list subscribers who haven't received your message for some reason. The bounce rate is divided into two parts: the Soft (Temporary) Bounce Rate and the Hard (Permanent) Bounce Rate.
Temporary bounces are caused by temporary issues with the correct email address that is valid for receiving messages. For example your inbox is full, or there is a problem with the servers of the service provider in which case the server carries this message to be delivered later when you solve this temporary problem, you can simply try sending this message again.
The reason for the permanent bounce is due to the presence of incorrect, closed, or non-existent email addresses, these messages are never sent and you should remove this email address from your mailing list immediately because email service providers use your bounce rate as the bounce rate is considered as an indicator of the reputation of the email sender.
Email Marketing Services
Is email marketing a priority for your company? Did you know that choosing the right email marketing service can have a significant impact on the success of your marketing campaign? Email marketing is one of the most cost-effective marketing tools for small businesses, and according to the Direct Marketing Association, email marketing provides an average ROI of 4300% for US businesses.
This is because email marketing is easy to manage, gives you full control, allows you to communicate directly with your customers and it's important to understand that much of your email marketing success depends entirely on the email marketing software you choose.
If you're not careful, you'll end up paying more for fewer features and exorbitant delivery rates which means losing more money.
Here are the most important email marketing services
–Nurturing leads1
Caring for a customer is fundamentally different from attracting them, you always need to maintain their relationship with you and that the relationship exists until they return to you again under the concept of a circle of loyalty," we do via email.
Customer Management Flow-2
Through this service, we provide everything related to your organization in terms of viewing content and archived communications displayed through a program that guides your employees to the most important things to do to manage customers.
3-Evaluation of potential deals
This means evaluating potential deals in the form of a "score" centered from 1 to 100 to see if the process of attracting leads pays off.
4-Manage email marketing campaigns
We have not forgotten that the most important thing about email is that it reaches the right people at the right time, in the right place and what they need to read in an educational way.
5-Email Marketing Strategy
5-Here's a roadmap and how to adjust your campaigns, how to set goals, key metrics.
6-Segment customers, and make sure you know which channels collect customer data.
7-The ability to create very attractive e-newsletters with a simple user interface (drag and drop preferred.)
8-Send group or personal and targeted emails effortlessly This is also called marketing automation.
9-Get the expected return on investment if marketed correctly.
10-Achieve a higher response rate and higher demand rates.
11-Retaining existing customers and targeting new markets and customers.
Abstract
Email marketing will not disappear no matter how other marketing channels appear, but it will increase because it is one of the most powerful marketing channels for business owners, let me ask you, do you want 4 billion users around the world, which is half of the world's population, to become your customers?
It is no longer difficult or impossible in our time, it has become within your reach, you only have to contact us to enjoy using email marketing in the right way for your brand and increase your profits. In conclusion we have completed a comprehensive guide to email marketing and we hope this will help all young people who want to use this marketing power to grow their business. If you want to contact a specialist to manage your marketing campaigns, you can contact us to start the journey of success and promote your brand.